2010

---
Three weeks into 2011, and for a third time, I am starting a log post intended to reflect on the past year. I started writing a post on the matter two weeks ago without finishing it. Today, "Championship Sunday," I resolved to wrap it up so I booted my VAIO laptop where the post was saved but the hard drive appears to be corrupted so now I'm starting over again on my X41 Thinkpad with a fresh install of Windows 7.
So, 2010. It was an interesting year… different if nothing else. Shortly before 2010 began I started a new job at WVUE-TV as a newsroom production assistant. Over the course of the year I learned a great deal and now I do a little bit of writing for the newscasts. I still have a lot to learn about doing it well. Another job I held for several years came to an end late last year with the doctor's office closing down. My current job is not sufficient in and of itself so I will have to make a move on that front in the coming months.
April and May were busy months with the French Quarter Festival, Jazz Fest, college graduation and a vacation all in the space of a few weeks. Halfway through May I graduated from Tulane University with a media arts degree. I doubt I will ever find my degree to be particularly useful but graduation did mark the end of a five year undertaking. Unlike a lot of other people, I don't have the burden of student debt since I worked during those years and went to night school.
Immediately after graduation I flew to Phoenix to visit my friend Ami. We had not seen each other in several years and I had never been west of Colorado. While I was there we took a road trip to Las Vegas which was a lot of fun. The last time I started writing this log entry I tried to think of something a little more profound about the trip but nothing has really come to mind. It was just a very enjoyable week.
I am hard pressed to think of any singular events of note that happened after that. I just hope 2011 will have it's own steps forward.
Comments Off

on Goodbye 2010
---
This was a much-anticipated day for a great many people across the country. I was very anxious to see the election results across the country although I was not exciting about the local races. For all intents and purposes, the elections in Louisiana were foregone conclusions. Vitter in. Cao out.
I worked my regular shift at Fox today although I would have liked to have had the day off, free to watch the returns come in at home. Our five o'clock news was in large part a preview of our election coverage… featuring several live shots from various campaign headquarters. Later in the evening around seven, I went with a co-worker out to a couple of polling placed in New Orleans East to collect some vote totals for the show. We collected numbers for three races although when we phoned in they only needed the second congressional district race. I guess the winners of the lieutenant governor and senate races were apparent early on.
We finally made it back to the station after nine when the show was already underway. Luckily it was largely a live affair so it was no great loss to be without someone to run the prompter. Overall I think out coverage went pretty well. There were no big surprises locally. The races elsewhere in the country proved to be quite entertaining though. I'm sure the news coverage over the next few days will be similarly enjoyable.
I was at the station until midnight and this was one of the few nights where I still had some company at the end of my shift. After I got home shortly before one, I watched some TV including some election coverage before finally going to bed around three.
Comments Off

on Mid Terms
---
Today was one of the more lively news cycles I've worked at Fox 8 since I started there almost a year ago. The big local story was the "early" end of the offshore drilling moratorium imposed by the Obama administration. We covered the story pretty heavily today but worldwide attention was focused elsewhere. The rescue effort of the trapped miners in Chile saw success as the first few were pulled to the surface tonight. I can only imagine what they would be feeling after being stuck underground for over two months.
My boss arranged for another PA to come in this evening allowing me to fill in writing, something I've only done on Thursdays these past few weeks. I thought I did good work for the most part this evening and nearly all of it made air. I wouldn't have expected that after the nine o'clock show started and the producer started killing several stories to make room for live hits from Chile. I stopped writing around 8:30. Rather than have Travis hang around another two hours while I did very little, I relieved him and prompted the newscasts.
A lot of the actual action happened during our ten o'clock show in which quite a few stories were cut to accommodate the miner's story, even a package on the second congressional district race we teased in the superopen. Unfortunately, we missed the first "big" moment. We went to commercial right before the first miner to be rescued, Florencio Avalos, reached the surface. Other than that, I thought we put on some good TV.
Even though I was in to write today was still working my regular schedule and had to stick around until midnight. Fortunately there was no additional "news" over the scanners before I was free to go home. Unlike yesterday I didn't come home with a headache so I watched a little TV before bed.
Comments Off

on 33
---
I have been a bit short on free time over the past few weeks. I have been working on Thursday nights, one of my days off, filling in to write for the evening newscasts. The person who holds the job is training for a producer position on the morning show. Myself and two other PA's have been coming in to write for the show until the position is again filled.
It's been a while since I have devoted any of what free time I have to video games. On the suggestion of a friend who hasn't even seen the show, I have started watching The Shield, a police drama series that aired on FX. I never paid any attention to it when it was on TV but it's certainly good enough to warrant a look-see. I'm currently about halfway through the show's seven seasons.
The next thing that will be consuming my free time is a police scanner I won on eBay today. I've had my eye on Uniden's BCD396T handheld scanner for a while. I got lucky and won a unit for a great price. I don't have a particularly intense interest in the practice so I have not been willing to pay anything close to the price today's digital scanners retail for. Working on the assignment desk at Fox8 has generated a certain curiosity, however. The radios we use there for scanning are quite elaborate but poorly programmed.
I've already done a good deal of research on the subject and I am hoping I won't have too much trouble programming my scanner. I installed a programming application called FreeScan and purchased a premium subscription to RadioReference.com which should enable the easy transfer of the frequencies I want to the radio.
Comments Off

on Writing
---
Last week, my brother Jeff moved to Colorado to find work there. He left a lot of his stuff behind to be sold or given away. He gave me a copy of SimCity 4 and I've spent a lot of free time playing it these past few weeks. The game is seven years old and I played it when it was new but didn't enjoy it very much as it did not run very well on my hardware and I found the game quite difficult compared to its predecessor.
This time around I am not having difficulty building a profitable city but I am as yet unable to build a thriving metropolis complete with abundant skyscrapers. Even with hundreds of thousands of people there seems to be a glass ceiling for buildings.
As the game is now rather mature, there is an abundance of user-created additions and mods for the game. I am starting slowly with this as I just want to play the game largely as it was intended to be played with some enhancements. I have installed the Network Addon Mod (NAM) which adds several new options and tiles for transportation. I am now building ground light rail in avenues, which embeds elevated rail into Rush Hour's included four lane roads. I am also using a global police headquarters that eliminates the necessity of building dozens of police stations in a single city and high-tech waste to energy plants. It doesn't feel too much like cheating since the future comes quick in SimCity. After I've exhausted my interest in playing the game as-is I may try some more fundamentally significant mods such as CAM.
This Friday, I went out by myself for the evening… not something I usually do. On the advice of a friend I took my camera with me just because and shot some pictures. I saw Leon Brown at Irvin Mayfield's Jazz Playhouse on Bourbon Street and saw a movie at the newly renovated Theaters at Canal Place. I saw The American, the new George Clooney movie. The pacing was slow and deliberate for Hollywood fare but I thought it was interesting enough. Good scenery if nothing else.
Comments Off

on Revisiting SimCity 4
---
This week I broke down and bought my first XBOX 360.  The $200, 4 GB model was too cheap to pass up.  It came in the mail on Wednesday and I set it up late that night after work.  Having not been entirely thorough in my research led me to several disappointments in short order.  My unit's lack of a hard drive means I can't play any of my old XBOX games.  I was also dismayed to learn that Netflix instant watch requires an XBOX live gold membership in addition to a Netflix subscription for no apparent reason.
My frustrations were compounded later by separate troubles with my computer.  One of the primary motivations for buying an XBOX was for an easy way to play content from my computer on the TV.  I've been using TVersity to stream stuff to a PS3 with reasonable success but that stopped working.  Internet connection sharing wouldn't start so I was unable to connect the Xbox directly to my computer and Windows Media Center would not communicate with the Xbox when I finally got Wi-Fi working.  I finally surrendered early in the morning with very little working.
On Thursday I formatted my computer to solve all the problems on that end.  I got Windows Media Center to work partially but it would not be recognized again after restarting the Xbox or my computer.  TVersity is working so I decided to stick with that.  I also upgraded my Live account sooner than I would have liked and tried out Netflix.  It works quite well and seems to look a lot better than its PS3 counterpart.
An entirely separate computer problem presented itself on Wednesday.  One of my new Dell 2209WA monitors died.  A dark and distorted picture accompanied a persistent high pitched whining sound when it is on.  Since I bought my new screens on eBay I wasn't sure I would have any luck invoking the warranty.  I was content to pay for a repair but apparently they don't actually fix things… At least that's what I gathered from a seemingly confused Indian woman I was speaking with.  Eventually I located an order number on the shipping label of the box and from there I was able to get a warranty replacement ordered.
Comments Off

on Xbox 360
---
Outside of work, I spent a lot of my free time playing with my "new" computer this week.   I did have to break down and reinstall Windows on Thursday.  The OS wasn't entirely stable even though it did function after changing the core hardware.  I would have been forced to anyway since the RAID drivers I needed pretty much have to be installed during the OS installation.  I got my RAID1 array working without incident.  I did have trouble with my Windows 7 CD key, however.  I bought my copy through a student deal with  Digital River.  The valid product key I bought only worked with the disc from the downloaded ISO.  The actual disc that was shipped to me doesn't work with my CD key.  It's an issue have yet to work out but the burned disc worked fine.
Among other things, I installed Crysis to see how my system would handle it.  With all the settings maxed, it still got choked up during a firefight and gave about 20 FPS otherwise.  With the settings set to "High" instead of "Very High," it's perfectly playable.
I had to work on Friday to cover a shift for Monica.  I was not thrilled about working but it was a good evening as far as work days go.  I wrote a story about Al Qaida that made air as I wrote it following some suggestions from John.   The newscast itself was somewhat eventful in that it occurred during  a thunderstorm.  I don't think the station actually lost power but there was plenty of lightning and flickering of lights and monitors.  It knocked out one of the recievers for a weather clicker and apparently we were off the air for about 15 minutes starting late in the 10 o'clock broadcast.  Luckily we were back on after a few minutes as the inundation of calls would have continued until my shift ended at midnight.
Comments Off

on RAID1
---
I devoted Friday to rebuilding my desktop PC and making some small modifications to my case.  I've had an Antec P180 case for my desktop computer four years now.   After clearing the case of all components, I cut two holes in the panel where the motherboard is mounted to allow wiring to run behind the mainboard.  Fewer cables running through the middle of the case improves airflow and aesthetics.  I found myself wishing I had thought to make this modification in a cooler season as it was quite hot outside, even in the shade.  The work itself was not hard, however.  I also had the benefit of practice.  I made the cutouts on a spare case the day before to assure myself I would have no problems.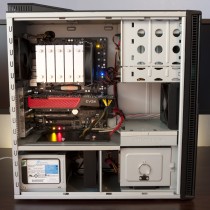 I used a Dremel with a cut-off wheel to do the bulk of the work and then smoothed the edges with a couple different bits.  I covered the metal edges with u-channel rubber to protect the wiring that would be running through the cutouts.  Later after thoroughly cleaning the case of dust and metal filings, UPS arrived with my new parts from NewEgg.  Assembling everything was easy enough although doing it neatly is time consuming.
Since my old Scythe Ninja heatsink is not compatible with LGA1156, I had to replace it.  I picked the Scythe Mugen 2 which has a hard bolt mount.  It takes some work to get everything aligned right but it works so much better than a spring mount which requiring stressing the components to get it installed.  I spent the better part of the evening getting the rest of the parts and wiring just right.
With all the components installed, I plugged it in and turned it on.  I was quite pleased to see it boot up successfully on the first try.  Windows even loaded without complaint.  I figured I would also have to reinstall the OS with all the hardware changes.  It took a couple reboots before drivers were installed for all the hardware.  Eventually I had to reactivate Windows over the phone.
I was up well into the early morning cleaning up the mess I made.  I had a couple boxes of spare parts sprawled out over the floor that needed to be repacked and the parts I removed from the case earlier in the day had to be stowed.  I finally got to bed at about five in the morning.
Saturday afternoon, I shot pictures of my newly rebuilt rig before closing up the case and moving it back to its corner.  We had leftover red beans and rice for dinner before I headed to work this evening.  I am usually the lone PA on Saturdays but Danielle was working tonight because I had to run graphics for the show.  Tonight was basically my first time doing that.  For graphics display we use Avid Deko.  Running the playback controller basically consists of tabbing through a list on onscreen graphics and calling up the appropriate ones in each of the four channels in which they can appear.  I was nervous having never done it before but it's not difficult and I did alright.  Running graphics for the 10 PM news was a nearly duplicate experience since both shows are so similar.
August made its presence known as I was waiting outside for a cab after work.  Even though it was 10:30 at night, it was still a sweltering 95 degrees outside and there's no reason to expect the weather to get any better in the coming weeks.
Comments Off

on Lynnfield
---
With the exception of work, my free time last week was largely devoted to finishing things up on the latest design of my website.  Much of the work was one the week prior but there was still a lot of polish remaining.  I originally intended to launch the site on August 1 but I was satisfied with the final product a week early and uploaded the new site this past Sunday.  I am quite fond of the end result but I have not received much feedback so I don't know if the feeling is largely mutual.
With the website done, I turned my attention elsewhere to fill time.  I did some shopping and bought a new motherboard, CPU and RAM to upgrade my desktop PC which hasn't had a major makeover in about three years.  I will be upgrading from an Athlon 64 system to an Intel Core i5 Lynnfield on a P55 motherboard.    I am keeping  my Antec P180 case, Seasonic PSU and hard drives.  In addition to the hardware upgrades, I will be making some small modifications to the inside of the case so I can route wires behind the motherboard.
This afternoon, I had lunch with Ireal, a friend from ballroom I haven't seen in several months.  We ate an Mandina's, one of the better places near the office.   I wasn't expecting it to be a very long lunch but we apparently had more than enough to talk about.  We arrived for one o'clock and the lunch crowd was long gone by the time we left.  In the course of our conversation, Angelo Brocato came up so we went over there for some ice cream.  Like Mandina's, Ireal had never been here before either.  At quarter past four, I parted ways with Ireal and finally went back to the office.
This evening, I practiced the case modification I will be performing this weekend on a spare case.  For the most part, I didn't have any problems although it was good to have the prior experience which should minimize the likelihood of any mistakes.
Comments Off

on v9
---
During these last couple weeks, I've seen a lot less work than I usually do. There have been several days Dad and I have skipped work or arrived late to catch World Cup games. I'm not a "football" person but it has been an interesting tournament. I can't say the final between Spain and the Netherlands was particularly compelling, however.
Last Tuesday, I took the evening off to have dinner with Andrey and several friends. He moved to Dallas last week for a new job. We had dinner at Vizard's restaurant, Patrick's dad's place. It's a pricey restaurant but the food was excellent. While we were there, Andrey presented each of us a parting gift, model cars he's collected over the years. After we finished eating and the kitchen closed. We all sat at the bar for a while and chatted with Patrick's dad Kevin. We all left for the evening sometime after 11. Andrey had to be early the next two days so we didn't go anywhere after dinner. David offered me a ride home.
Designing a new iteration of Mr. B's Domain has occupied most of my free time these last couple weeks. I saw a blog a couple weeks ago with a bold black and white layout I wanted to emulate. I soon decided at least a little color was necessary. I have chosen purple as the accent color this time. Blue was too easy.
At present, much of the work is done. I have installed WordPress which will most likely be used for "The Log" in the future. The content pages are nearly ready but I have not yet started work on upgrading the photo gallery which will be a pretty big job. I am hoping to have the new site online by August 1st.
Tags: andrey, v9 | Comments Off

on Purple
---
Again, weeks have passed since my last entry and in the coming weeks I will be redefining the raison d'etre of "The Daily Log." When I first started this feature I envisioned it lasting as long as my college graduation which recently occurred. I am currently working on the next iteration of my website and with it I will be changing up the log. Primarily, I will be removing the word "daily" from the name, something I should have done a long time ago. I will probably try to write recaps of my goings-on but the posting may go in another direction in the months to come, perhaps along the lines of a more traditional blog.
As for what I've been doing with myself over the last couple weeks, there are only a couple highlights outside of the usual work stuff. I saw a couple movies at the theater with Andrey, David and others recently including Get Him to the Greek, The Karate Kid and Knight and Day. On both occasions, David picked me up at the station after work and gave me a ride home after.
The Saturday before last, David and I went over to Andrey's mom's apartment in Metairie to help them move into a new house they bought. It was a small second floor apartment with no elevator so it wasn't an ideal situation for carrying furniture but we managed fine. I got off a bit easy with the furniture lifting but the afternoon was easily the biggest workout I had in a while. Andrey didn't get the biggest truck so several trips were involved. We'd only made two runs I think before I had to go to work at the station.
Work that evening was only slightly unusual. I am usually the lone PA on Saturdays because there isn't enough work for two. For some reason, Greg scheduled Danielle to work so she prompted the show. I ended up rolling clips in George's place. After work I was to meet back up with Andrey and David at some bar. They had one more truck load and Danielle was headed to Metairie and she agreed to give me a ride.
It didn't take too long to unload the truck. With the day's work out of the way, Andrey took us to a bar in Metairie owned by one of his mom's neighbors. Drinking in Metairie was a first for me. The place located in a strip mall was featuring live music this evening. If anything, it was a different sort of place than what we usually see.
Comments Off

on The Rest of June
---
I don't remember much of consequence from the rest of this past week. Yesterday afternoon, I watched the much anticipated USA vs. England world cup "football" game. I certainly wasn't expecting a tie.
After work yesterday, David picked me up from the station and we went to the Elmwood theater to meet Andrey, Patrick and Haydar to see The A-Team. David and I arrived well before 10. The show didn't start until 10:30 and our other friends arrived later than us. As for the movie itself, it had some laughs but it was hardly a good film and very forgettable. After the show, David was kind enough to give me a ride home which made the whole evening a lot cheaper than it otherwise would have been.
I didn't exactly hurry out of bed this morning after being up late last night. I wasted most of the afternoon in front of the computer and watching a movie, In Bruges. Mom made smothered pork chops for dinner. I left for work immediately after eating. There were no recent murders tonight and the evening passed quietly. Sean was flying solo for the Final Play show after the news. His interview guest canceled yesterday but he still managed to fill the show. I went home after prompting morning sports.
Comments Off

on In Bruges
---
While I have not been exceptionally busy in the last week or so, I have not budgeted time for this log. I did go out and meet Andrey and David after work on Sunday. We played some pool at St. Joe's Bar on Magazine. At work, the newsroom has grown more crowded with several summer interns getting started. My fall internship seemed a lot quieter with seemingly far fewer fellow interns. We also have a new hire, Danielle, who will be working as a PA through the summer. With all the new people, I have been spending a lot of time teaching others about my job, mostly printing the shows. With John Snell on assignment for the last few days, we have not had the burden of printing five copies of the 9 PM show, a welcome relief.
Last week I sat with Danielle while she ran the teleprompter for the first time during a live broadcast.Today I had the chance to learn something new myself. Following a "rough" broadcast a few days ago, Jannette wanted all the editors to be able to work on video during the show rather than have one in the control room rolling clips. Instead, she thinks a PA should do it when interns are in the newsroom to print scripts. After I arrived today, I started teaching the three interns we had this afternoon how we go about putting anchor reads in the scripts and printing the show. I was able to stick around until five minutes to air time when I made my way to the control room. Rico was up there to show me how to play clips for the newscast. As most of the video was already in he was free to do the job himself and I was in no hurry to jump in before I fully grasped the job. We use Avid iNews Command to roll clips during the show. Rico showed me the ropes through most of the show. I ran slips during the sports block without incident. It's almost entirely a matter of pressing the play A, B, C or D button as told by the director. He has four channels of clips to draw upon at any given time.
Later I ran clips for the entirety of the nine and ten o'clock shows while Danielle ran prompter and an intern printed the scripts. The printing part was a little rough with a newbie doing that. I know there were some pages that never made it out to anyone. Rico was free to sit behind me for the better part of both broadcasts but luckily there were no major issues during with show so I did fine. The rest of this evening passed without incident and I went home at 12:30.
Comments Off

on Roll D
---
They say nobody needs a vacation like the man who just had one. It's true. After getting home late Sunday night, I was back at work on Monday until 12:30 AM. I also worked late on Tuesday and Wednesday. I made a couple small mistakes printing the shows and was tired, but I did manage to get through the week just fine. After work on Wednesday, I met Andrey, David and Patrick at d.b.a. where Walter "Wolfman" Washington. Patrick had just returned from travels himself, having spent some time in South Africa. They were already a round or two ahead of me. After a little while be walked down the street to Blue Nile we met a couple of Andrey's friends, Laura and Rachel. Laura is a fellow Karr alum. Khris Royal and Dark Matter was the band playing. Laura was acquainted with Khris who went to NOCCA. We were there for a couple hours, listening to music and enjoying adult beverages. Laura had a camera with her, the source of much amusement. Shortly before one we disbanded for the evening and I took a cab home.
I took Thursday off to unpack, rest and do laundry. I had plenty of TV watching to catch up on. That evening, I met the usual suspects and Haydar for dinner and a movie. I got picked up and we went to a Vietnamese restaurant on Manhattan and then went to the Palace for a movie. We saw Macgruber which was quite bad, exactly what I was expecting from a stupid SNL bit dragged out for 90 minutes. I walked out of Shindler's List feeling better than I did after this movie. We didn't go anywhere after the movie and I got a ride home.
I was also off Friday. Dad has started to close the office on Friday's which makes sense as our patient flow that day has historically been dismal. I got an invite to go out late that night but elected to stay home and go to bed at a marginally respectable hour.
Comments Off

on No Rest for the Weary
---