2011

---
Today was the first of a five day trip to Denver with my friend Bianca.  Tropical Storm Lee was moving towards the Louisiana coast today, bringing substantial but intermittent rain since yesterday.  I wasn't really worried about flight delays but I did think street flooding could keep us from the airport.  The ride to the airport turned out to be dry and uneventful.  The flight itself was fine, if a bit bumpy at the start.  After arriving in Denver, we caught a shuttle to Enterprise rent a car where we had a reservation… but there weren't any cars.  Customers were at the mercy of returns.  When someone drove a car back… they rushed to clean it and offer it to the next one in line.  After waiting about an hour with one of the service reps who kept us company, we got a little Kia Rio, not what we were hoping for having reserved a mid-sized car, but after an hour, we were content with four wheels.
Bianca was anxious to attend a small charity event at the Mercury Café restaurant.  They held a live and silent auction for a battered women's shelter and dinner was available.  Having partaken in some mediocre "organic" food, we drove down to our hotel and retired for the evening.
Comments Off

on Denver in September
---
Nearly two months have passed since my last post.  Seeing a June date on my homepage after all this time has finally compelled me to throw another entry on here.  I had planned a nice little summary of my month of jury duty at Orleans Criminal District Court but I couldn't muster the enthusiasm.  I don't think I have any original ideas on the matter anyway.  Like a lot of people, I came away with what I considered to be an interesting experience, but not a desire to repeat it.  I served on two juries, both ended in guilty verdicts.  One was a daytime drive-by triple shooting.  The other was a gun and drug possession charge.  The most fascinating aspect of the whole thing was the deliberations were much more intense on the comparatively trivial drug charge case.  There were a few hours of intense discussion on that case whereas it took all of five minutes to deliberate the attempted murder case.
At the time of my last post I mentioned a change in my work situation with my little promotion at FOX 8.  Shortly thereafter I took a second job as a computer technician at a surveillance systems wholesaler.  I am building, repairing and providing tech support for their DVR servers.  It's pleasant work that pays well but it is not stimulating like my job in live television.  In any case, the extra money should significantly alter my circumstances in the coming months.  It did force me to start driving regularly.  I've had a license for a few years now but have not made much use of it.  With just one job, taking cabs back and forth made some financial sense compared to owning a car, but three trips a day including one to Harahan and back… not so much.
There are two other things worth mentioning before I wrap this up.  First, my aunt Lauren has moved back to New Orleans after a few years residing in Florida post-Katrina.  The family and I helped unload her moving truck this past weekend.
Next weekend, I am going to Denver for a few days with my friend Bianca.  She is planning to move there in the future and wanted to check the place out and do some apartment hunting.  Bianca told me about the trip a few months back and I offered to tag along if she could not find another travel companion.  She came to visit a couple weeks ago and said she had not found anyone else so I bought plane tickets.  I have not been to Colorado since my family moved away in 1997.  It should be fun to see how things have changed and spend some quality time with my friend.  I'm sure I will muster at least one post about the trip… maybe even one for each day.
Comments Off

on Progress
---
By my standards, the last several weeks have been reasonably eventful.  April and May are festival season and I attended every day of both French Quarter Fest and Jazz Fest.  I never got around to really writing about this year's French Quarter Festival and I gave no thought attempting to document Jazz Fest in prose.   Suffice it to say, it was one of the best Jazz Fests ever.  Supposedly, it was the first one in 12 years without rain.  The weather was also unseasonably cool and pleasant which made for a much better experience.  Coca Cola was back after two sad years with Pepsi.  The food and music were excellent as always.  I spent the bulk of my time in the tents this year and avoided sunburn.   This year I was a little more adventurous in choosing who to see, passing up old standbys I got to see in the French Quarter for an opportunity to see new bands.  One of the highlights was the last act on the last day in the jazz tent, Sonny Rollins.  I'm sorry to say I didn't know who he was until a couple hours before he performed, but I'm very glad I was around for his set.  I had never seen the normally subdued jazz tent crowd that excited.
Recently, I earned a small promotion at work.  I am now working as the news writer / production assistant for Fox 8's brand new noon newscast.  There is not a great deal of writing involved and I am still have PA duties but the hours are so much better.  I come in at nine in the morning and am done at three.  It's taking time to adjust to getting up like normal people but I hope it will promote a healthier lifestyle.  If nothing else I should save money, not having to eat out for dinner.
I was somewhat surprised to get the position, partially because I don't think highly of my writing ability.  A week into the new job, I think it's going well overall.  I'm already familiar with all my duties although I've had to run graphics for the first couple weeks… the one thing I didn't know how to do.  I am hoping my writing skills will improve rapidly in the coming months.  I'll have ample opportunity to practice.
I took a three day weekend last week.  My friend Krystle was in town for a few days.  She's had a rough month and needed a break.  I spent a lot of time walking around the French Quarter, shopping and eating out.  I didn't have much luck taking her mind off her troubles so it wasn't as pleasant a visit as it could have been.
The Wednesday after Krystle went home, I started a month of jury service at Orleans Parish Criminal District Court.  I was summoned back in March for a term in either April or May.  That's festival season so I asked for it to be deferred until June.  Jury service at criminal court requires ten days of service, two days each week for a month.  I am in "Group A" which reports to the jury pool Monday and Wednesday mornings.  You need a pretty good reason to get out of it, which I don't have as an able-bodied person with no dependents.
On the first day, I was among the first group picked for the first trial in need of jurors.   I quickly learned that it's best to be in the first of two groups questioned during voir dire, in which the attorneys pose questions and try to select the most 'impartial' jurors.   The case apparently involved an OPP inmate who was involved with a fight involving some sort of weapon, probably a shiv.  He was charged with possession of a weapon while in prison.  The prosecution spent a lot of their time establishing what possession means and questioning the potential jurors about various legal angles that would be involved in the case.  It didn't take very long compared to defense council.  He questioned the first group for about two hours.
I didn't have any desire to sit on a jury so I was hoping for a question I could answer to effectively disqualify myself.  It came during the questioning by the defense when he asked if anyone would be impacted by the defendant not taking the stand in his own defense.  I said it wouldn't be the deciding factor, but it would create doubt as I know I would be dying to testify were I wrongly accused of a crime.  Shortly after the defense attorney finished his questions, both attorneys and the judge went to chambers while they made their selections.  I didn't get picked.  Those of us who weren't selected were sent back to the lounge where we were excused for the day.  I considered myself lucky, but that would run out next week.
Comments Off

on Changes
---
This past weekend I attended all four days of the 28th annual French Quarter Festival. This was the first year the Fest began on a Thursday. The free event has become extremely popular in the last few years. Like Jazz Fest, it began as a small event for locals. It is now a huge draw for tourists. New Orleans hotels were full to capacity this weekend with visitors from across America and abroad.  On Sunday I spoke with a couple from northern England.  They were here as part of a tour group that also visited Memphis and the Grand Ole Opry in Nashville.
Comments Off

on French Quarter Fest 2011
---
This Saturday, I attended the New Orleans Comic Con, the first such convention of its scale here in the Crescent City. A friend of mine and fellow Tulane alumnus first made me aware of the event of Facebook a few months ago. I have always wanted to see a Star Trek / Sci-Fi convention in New Orleans but this was the closest thing to it that I can remember.
I arrived at the convention center at 11 o'clock this morning. It looked like thousands of people were already there. After getting in, I perused the show floor for a couple hours. There were scores of comic book artists and dealers as well as throngs of interesting people to look at, many in costume. On the right end of the hall was a large "gaming area" set up for Magic card and RPG players. There was a lot of interesting artwork to look at, but I have never been a fan of comic books so I did not have much appreciation for the happenings on the show floor. I did see some familiar faces over the course of the day. A Tulane professor I took a couple classes with was there. Kevin Fontenot was manning a booth his brother was running for an upcoming con in Lake Charles. I saw my Friend Nicole who first told me about show. She was working as a staff member and she told me she was the one who got Battlestar Galactica actor Aaron Douglas to attend. I also saw some other Tulane alums there.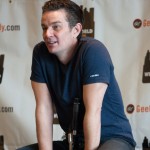 After a while I went up to check out the question and answer panels. The only one going on at the time was with James Marsters of Buffy fame. The panel was half over when I got there I have never seen the shows he has been in. James was very engaging though and it was a lot of fun hearing him talk about his experiences working with Joss Wheadon.
I stuck around after the Marsters panel for the next one with Billy Dee Williams, best known for his role as Lando in the original Star Wars films. I'm not a huge Star Wars fan either but I figured it would be nice to hear him talk about his work as his career which spans several decades. Unfortunately Billy was just not very interesting. He seemed far more concerned about being diplomatic than giving straight answers to questions. On top of that, his delivery was a bit too soft, even with the microphone.
Following the Billy Dee Q&A I decided to leave for a while and get some lunch. I thought I might walk to Mother's restaurant on Poydras but I stopped and walked into Mulate's. The place is known more for their live Zydeco music than the food which seems to be considered uninspired. It's hard to fault the restaurant for that since they are adjacent to the convention center and largely cater to a tourist crowd. I had a cup of etoufee which wasn't bad and a BBQ shrimp appetizer which was quite decent but the sauce was a bit too salty.
I walked back to the convention center after lunch and wandered the hall for a little while and then went upstairs to get in line for the Adam West panel. The line was enormous. At the front of it was Jessie, an acquaintance from ballroom. She let me cut in line with her and a group of friends with her. I was able to get a front row seat. Sadly the host of the panel asked that no pictures be taken… The main reason I wanted to be up close. As the room filled, a Loyola law professor we occasionally interview for the news sat next to me. I don't know Peter personally but we spoke briefly about our work and why we were there to see Adam West and Burt Ward.
I must confess I have not seen the original Batman film and TV series but I have seen him in several other things as well as his voice over work in a few animated series. Both Adam and Burt were very entertaining and very gracious to the fans they took questions from. For the most part, the questions related to the original Batman series.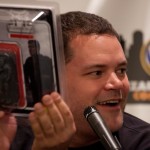 The Aaron Douglas panel followed the Batman Q&A. I got a seat in the front row, right in front of Nicole, who I saw earlier. Compared to the last panel, the crowd for this one was a bit more intimate. There were probably about 80 people in the room. Put simply, Aaron was awesome. He was engaging, quite funny and genuine. Douglas is not really known for his work outside of Battlestar Galactica so the Q&A session almost entirely involved talk about that series. In addition to answering direct questions, he also told a few stories about his time on the show including one about his son visiting the set. Near the end of the session, a friend of his presenting him with a belated birthday present, a one-of-a-kind Chief Tyrol frozen in corbomite figure. Aaron seemed quite elated by the gesture.
At the conclusion of the panel, I left the convention center and caught a cab to the station for work that evening. I'm sorry I wasn't able to hang around for the costume contests. Later after work I looked at the pictures I took over the course of the day. I was sorry I wasn't more sociable in asking many of the colorful patrons for photos. I also had trouble dealing with the unremarkable lighting. I took a lot of blurry shots. Overall, though, it was a lot of fun and I will be back next year.
Comments Off

on New Orleans Comic Con 2011
---