| | |
| --- | --- |
| | New Orleans Comic Con 2011 |
This Saturday, I attended the New Orleans Comic Con, the first such convention of its scale here in the Crescent City. A friend of mine and fellow Tulane alumnus first made me aware of the event of Facebook a few months ago. I have always wanted to see a Star Trek / Sci-Fi convention in New Orleans but this was the closest thing to it that I can remember.
I arrived at the convention center at 11 o'clock this morning. It looked like thousands of people were already there. After getting in, I perused the show floor for a couple hours. There were scores of comic book artists and dealers as well as throngs of interesting people to look at, many in costume. On the right end of the hall was a large "gaming area" set up for Magic card and RPG players. There was a lot of interesting artwork to look at, but I have never been a fan of comic books so I did not have much appreciation for the happenings on the show floor. I did see some familiar faces over the course of the day. A Tulane professor I took a couple classes with was there. Kevin Fontenot was manning a booth his brother was running for an upcoming con in Lake Charles. I saw my Friend Nicole who first told me about show. She was working as a staff member and she told me she was the one who got Battlestar Galactica actor Aaron Douglas to attend. I also saw some other Tulane alums there.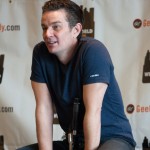 After a while I went up to check out the question and answer panels. The only one going on at the time was with James Marsters of Buffy fame. The panel was half over when I got there I have never seen the shows he has been in. James was very engaging though and it was a lot of fun hearing him talk about his experiences working with Joss Wheadon.
I stuck around after the Marsters panel for the next one with Billy Dee Williams, best known for his role as Lando in the original Star Wars films. I'm not a huge Star Wars fan either but I figured it would be nice to hear him talk about his work as his career which spans several decades. Unfortunately Billy was just not very interesting. He seemed far more concerned about being diplomatic than giving straight answers to questions. On top of that, his delivery was a bit too soft, even with the microphone.
Following the Billy Dee Q&A I decided to leave for a while and get some lunch. I thought I might walk to Mother's restaurant on Poydras but I stopped and walked into Mulate's. The place is known more for their live Zydeco music than the food which seems to be considered uninspired. It's hard to fault the restaurant for that since they are adjacent to the convention center and largely cater to a tourist crowd. I had a cup of etoufee which wasn't bad and a BBQ shrimp appetizer which was quite decent but the sauce was a bit too salty.
I walked back to the convention center after lunch and wandered the hall for a little while and then went upstairs to get in line for the Adam West panel. The line was enormous. At the front of it was Jessie, an acquaintance from ballroom. She let me cut in line with her and a group of friends with her. I was able to get a front row seat. Sadly the host of the panel asked that no pictures be taken… The main reason I wanted to be up close. As the room filled, a Loyola law professor we occasionally interview for the news sat next to me. I don't know Peter personally but we spoke briefly about our work and why we were there to see Adam West and Burt Ward.
I must confess I have not seen the original Batman film and TV series but I have seen him in several other things as well as his voice over work in a few animated series. Both Adam and Burt were very entertaining and very gracious to the fans they took questions from. For the most part, the questions related to the original Batman series.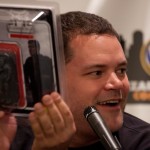 The Aaron Douglas panel followed the Batman Q&A. I got a seat in the front row, right in front of Nicole, who I saw earlier. Compared to the last panel, the crowd for this one was a bit more intimate. There were probably about 80 people in the room. Put simply, Aaron was awesome. He was engaging, quite funny and genuine. Douglas is not really known for his work outside of Battlestar Galactica so the Q&A session almost entirely involved talk about that series. In addition to answering direct questions, he also told a few stories about his time on the show including one about his son visiting the set. Near the end of the session, a friend of his presenting him with a belated birthday present, a one-of-a-kind Chief Tyrol frozen in corbomite figure. Aaron seemed quite elated by the gesture.
At the conclusion of the panel, I left the convention center and caught a cab to the station for work that evening. I'm sorry I wasn't able to hang around for the costume contests. Later after work I looked at the pictures I took over the course of the day. I was sorry I wasn't more sociable in asking many of the colorful patrons for photos. I also had trouble dealing with the unremarkable lighting. I took a lot of blurry shots. Overall, though, it was a lot of fun and I will be back next year.
---